Rugby Colour Palette Project
Rugby Colour Palette Project
Following the hugely successful Royal Leamington Spa Colour Palette and Warwick Colour Palette, developed by Stacey Barnfield in collaboration with Warwick District Council, we are pleased to announce our new Rugby Colour Palette Project. With thanks to funding from Avanti West Coast, we will be working with Ruby Road and Jo Chalkblack to create school and community engagement sessions this Autumn, to find out what colours the local community feel represent Rugby. Members of the public are also invited to help shape the development of the Rugby Colour Palette by making suggestions, via an online form and social media, on people, places, objects, and things residents and people who visit and work in the area associate with the town.
After this consultation project, artist Stacey Barnfield, will work his magic to create 6 themed colour palettes that will represent a snapshot of how those who live and work there see their town. These colour palettes will then go on display in the internal pedestrian subway at Rugby Railway Station in March 2024. We will also be working with Rugby Borough Council and other local partners to integrate the Colour Palette throughout Rugby as part of the legacy of this initial project.
Make your Rugby Colour Palette suggestion.
Download our Rugby Colour Palette Activity Book (PDF, 9.5MB)
FAQ's:
How and where will the artwork be installed?
The artwork will be displayed in the pedestrian subway in Rugby Railway Station. There will be 2 sets of 19 panels at 17.5m overall length printed in full colour on vinyl with anti-graffiti overlaminate. Each design to comprise of 18x Colour Palette panels and 1x explanatory panel. One set will be fitted at South end of underpass in level position and the other at North end of underpass partially running up sloping ramp behind railings. All to be installed on site during normal working hours and will not impede access to the platforms or through the subway itself.
Who is the Artist?
Stacey Barnfield is a Birmingham-based artist, designer, and writer with a fascination for the heritage and history of the Midlands from a design, typography, and 'place' perspective.
The Colour Palette concept was launched during the pandemic lockdown when Stacey created branding for landmarks people were unable to visit due to new travel guidelines, but were sorely missed by those who enjoyed passing or visiting on a daily basis.
More of Stacey's work can be seen through the Draw My City artworks project, which encourages people to think of lesser-known places that might not always win architecture awards but are no less important to the people who worked, danced or dined there.
Through his marketing and publishing work, Stacey produces publications in various formats that celebrate architecture and design.
Who else are you working with?
We have the brilliant Ruby Road and Jo Chalkblack developing and delivering our school and community engagement sessions.
Ruby Road are a Warwickshire based storytelling collective with overactive imaginations and a passion for place. Co-founded by Sarah Annis and Red Isaac.
As a collective they seek to transform public spaces through storytelling with projects that are rooted in the place and its communities. They were thrilled to be part of the recent Warwickshire 'Our Spaces' project, creating 'We Shadows' public art intervention in Stratford Upon Avon which had extensive local youth engagement. Sarah has also co-created and run engagement workshops in schools and communities throughout Warwickshire for other Our Spaces projects.
She began her creative journey 20 years ago as an actress and also works as a creative producer on projects involving community engagement, theatre in education, place branding, public art and public realm interventions as well as writing narratives for animation, film and immersive experiences.
Jo Chalkblack is a Bristol based social practice artist and creative producer. She is passionate about co-creating ways to connect people with their natural and built environments and with each other exploring and mixing up a wide range of media from hands on techniques to digital. Her 10 years of using art in this way are informed by 16 years working in youth services, adult substance misuse services and 5 years working in schools. Her practice ranges from creative youth consultation film projects for local authority, interactive multicultural performance in vacant inner-city buildings to running multi-generational heritage story trails using projected film in woodland spaces. She believes that art brings people together to reimagine what is possible.
We are working closely with Avanti West Coast, who've funded the project, and Network Rail to ensure that all necessary permissions and requirements are met for the installation of the colour palette at the station.
What happens if I don't agree with some of the inclusions in the palettes?
Art encourages discussion and debate and allows people the opportunity to see the world from different views and through different lenses. We encourage you to formulate your own opinions about the work and if you don't agree with any of the colours included, you might consider designing your own colour palettes and sharing them with us.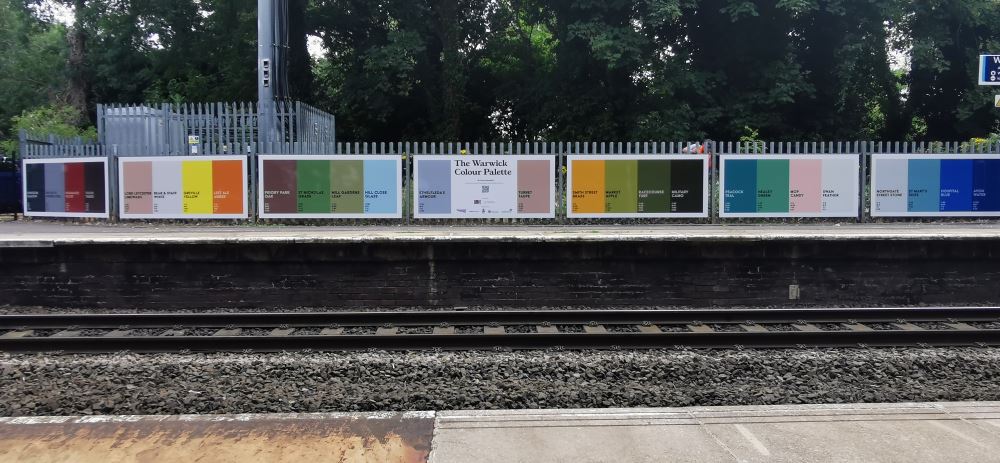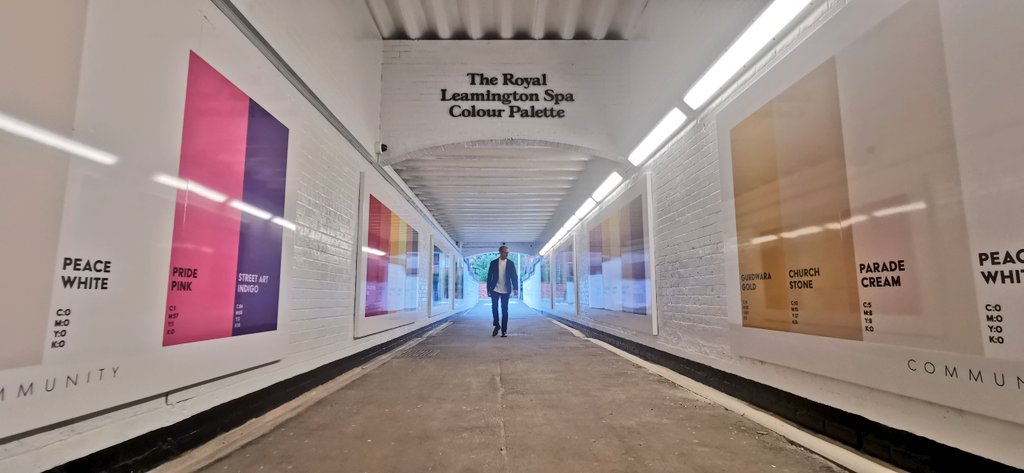 Leamington Colour Palette